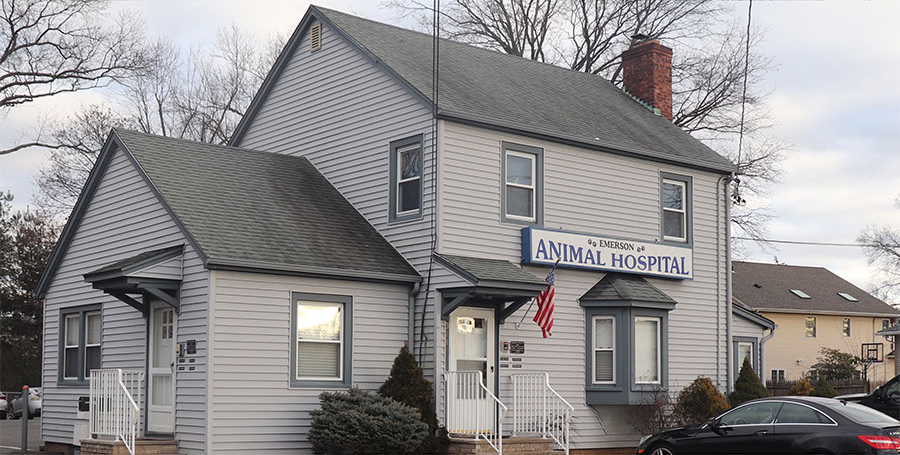 EMERSON ANIMAL HOSPITAL
SERVING OUR COMMUNITY SINCE 1940
We would be honored to provide professional medical care for your four-legged family members. All new clients will receive a 15% discount for their first routine office visit. Preventive care is essential to a long healthy life for your Cat, Dog and other small animals. We take pride in treating our patients with care and love.
Emerson Animal Hospital offer's a 10% discount* for new patients for most Soft-Tissue Surgery including:
Spay
Neuter
Cystotomy
Splenectomy
Gastrotomy
Tumor Removal
Enucleation
Aural Hematoma
We offer a similar discount for all Dentistry service. Call 201-262-2950 to set up an appointment!
We will match competitors' estimates from any other Animal Hospital or Veterinary Service in the New York/New Jersey area.**
** To qualify for price matching, please present a legitimate estimate from a competitor.
* (Orthopedic Surgeries excluded. Any patient over 5 years of age will incur additional expenses for routine blood work prior to administration of anesthesia).
ABOUT EMERSON ANIMAL HOSPITAL
Founded in the 1940s, Emerson Animal Hospital P.A. was purchased by our current owner, Dr. Lofaro in 2001. Our hospital has a team of four to five veterinarians, and has been completely refurbished to facilitate the highest quality of pet care.
OFFICE VISITS
Office visits are by appointment, and walk-ins are accepted.
ESTIMATES
A computerized estimate is given for all hospitalized pets and is updated daily so there are no surprises. Because phone estimates can be misleading, we prefer to have our doctors provide them in the exam room, before the procedure.
PET RECORDS
All pet records are kept on our computer, with reminders sent out on a timely basis. Pet owners whose animals have been sick and treated at the hospital are called for a progress report at an appropriate time after the procedure and are advised regarding ongoing care.