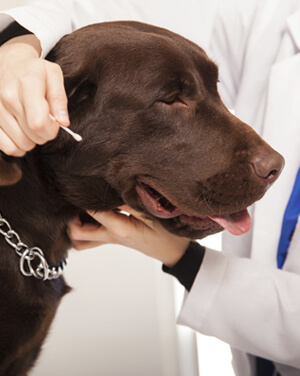 Flea and Tick control is very important to the health of your pet. Not only do fleabites cause discomfort and irritation, they are responsible for a serious skin condition known as flea allergy dermatitis, and carry tapeworms (intestinal parasites). Even more, they can quickly infest your home, biting humans in the process.
Program®
Program is the only once-a-month oral flea control available for dogs. One dose of Program prevents flea eggs from developing and hatching, thus breaking the life cycle of the flea and protecting your home from infestation. One dose of injectable Program available for cats is good for 6 months of protection.
Used alone, Program will bring the infestation under control, as fleas will be unable to reproduce and soon die. However, we highly recommend combining Program with Frontline® for fleas and ticks for the ultimate protection.
Frontline®
Frontline is a safe and effective at protecting against fleas and ticks. A monthly application will kill adult fleas on cats. Where applied monthly on dogs, it not only kills adult fleas but all stages of tick development as well, protecting your canine against serious illness like Lyme disease. The application begins killing fleas within 24 hours and ticks within 48 hours.
Contact Emerson Animal Hospital P.A. in Emerson, New Jersey, to show your pet how much you care.